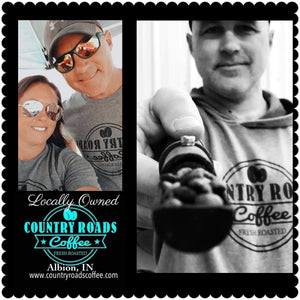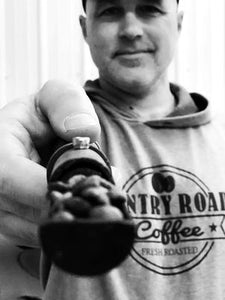 Hand-picked and Fresh Roasted. From Farm~to Roaster~to your cup!
It's our #1 priority to bring top coffee beans from around the world to your home so you can enjoy an amazing cup of COFFEE every single day not just on special occasions.
Our Mission at Country Roads Coffee
Our Mission is to offer fresh...great tasting coffee that our customers can enjoy every day not just on special occasions.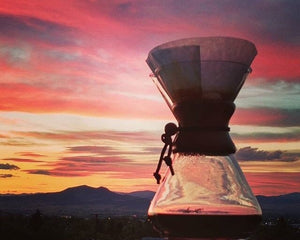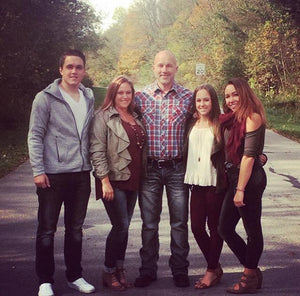 Our story behind "Country Roads Coffee"
Never in our wildest dreams did we ever dream up we'd Build our own Roastery and start serving our community with top of the line, fresh roasted coffee beans. But here we are, After quite a few nudges from friends and family, we gave it a go.
It all started with the curiosity of, "how can we roast our own beans, drink amazing coffee EVERYDAY while not spending a fortune??
So the roasters wife bought him his 1st tiny roaster
(aka: popcorn popper with the ability to roast ONLY 1/4 of a cup each roast), 8-1 lb bags of green beans and he hasn't stopped roasting since.
A passion was definitely lit that Christmas morning.
A few years fast forward. Our "future roaster" built a pole barn for storage but really GOD had other plans.
1 yr later the summer of 2018, our son left for the Army. Still no coffee roastery was in the plans...but nudges kept coming. Lots of nudges!!
One of our sons 1st letters home he told us his nickname was now ROADS...in the shower he would sing John Denvers "COUNTRY Roads take me home," it became his and our families theme song...Little did we know...6 wks after his graduation...we would bag our 1st bags of coffee...we SOLD OUT & received tons of re-orders. Who knew??
That's when "COUNTRY ROADS" was born. In 4 months time we upgraded roasters 3 times and in 8 months became a CERTIFIED ROASTERY. All the time thru everything God is good!!!!
The Clouse Family
Recommendations & Reviews
"I had tried their decaf and it was one of the best I've ever had!"
*Brian S. (4-18-2020)
"This is THE best coffee that I've ever had! I wasn't sure if I'd really notice a difference, but man it's incredible!!!"
*Lindsay H. (3-29-20)
"We just finished off what I'm pretty sure is our 12th bag of Country Roads Coffee! We like to purchase it at Teghtmeyer Ace Hardware in Columbia City. My personal favorite flavors are Peru and Sumatra."
*Lauren S. (3-30-20
"I tried Country Roads Coffee for the first time yesterday and I absolutely loved it!! It was so smooth and full of flavor I had 3 cups in a row! I'll be recommending this coffee to everyone though because it's too good not to share!! Thank you for an incredible coffee CRC!!!"
*Trent G. (3-28-20)
"Best coffee ever.. freshly roasted locally."
*Tina Y. (1-29-2020)

"Country Roads coffee is simply the best & so are the people that make it!"
*Tracy S. (1-26-20)
"Best coffee ever! It's so smooth and has great flavor and richness. I will definitely be getting more!"
*Melody T. (1-26-20)

"I'm so happy to support this local family. They've really done a fantastic job!are Amazing and Its Great!!"
*Jason B. (11-10-19)

"Some of the best coffee I've ever had! It's the freshest coffee you can get, and locally roasted here! Love supporting a local business owned by great people! Very genuine and have a fantastic product!"
*Rachel H. (8-4-9)
"Customer service and a great quality product is everything to me, Country Roads Coffee has the best of both!
We love their coffee and the owners are genuinely good people!"
*Larry H. (7-22-19)
"Delicious coffee! Great taste!"
*Stephanie C. (10-6-19)

"Absolutely AMAZING coffee."
*Tricia E. (7-25-19)
"Their coffee is smooth, no bitter aftertaste. Once you taste your hooked. A beautiful family that shines through their hard work. Thank you for bringing good taste to my morning happiness. Also your coffee makes ice cream taste amazing."
*Julie H. (6-15-19)
"Wonderful coffee. So glad we stopped by the farmers market to try a sample. We are looking forward to trying another flavor soon."
*Ben N Aimee (6-23-19)

"Wonderful coffee! Buy local!"
*Rhnea S. (8-22-19)
"The Costa Rica is awesome!"
*Todd C. (8-29-19)
"Love the rich bold flavor of the Costa Rica blend. Definitely want to try the other flavors as well!"
*Suzy Sowers (9-1-19)
"Great tasting coffee. Can't wait to try more flavors."
*Jennifer R. (1-16-19)
"I have tried several flavors and loved them all! Very smooth with no bitterness at all!"
*Mark N Jackie Y. (1-24-19)
"Great coffee!! White chocolate is my favorite so far! Yummy!"
*Tarah W. (1-29-19)
" I just enjoyed my first cup of Costa Rican Medium Roast coffee and enjoyed it very much. I generally drink Dark Roast coffee though wanted to give this a try this morning. It is light and smooth leaving no butter aftertaste. I believe I am ready to try more. Thank you so much for bringing great coffee to our little spot of the world."
*Amy B. (2-16-19)
"Their coffee is so smooth and flavorful that even my kids have tried it without flavored creamer and said how good it was. It's worth every penny!!"
*Pamela M. (10-12-19)
"The Papua New Guinea roast is amazing!!! Great way to start the day!"
*Anthony R. (8-18-19)
"Fantastic, flavored beans! Cannot wait to try them all!"
*Jenni H. (12-12-18)
"The best coffee money can buy!! Absolutely love ALL of the different flavors! You can't go wrong here!"
*Shylyn C. (12-9-18)
"Great tasting coffee!! Can't wait to try them all!"
*Amanda P. (12-13-18)
"We love the Christmas surprise blend. Love the flavor no need for creamer..... so good.
Can't wait to try the others."
*Suzy B. (12-20-18)"
"Best coffee I've ever drank. So smooth. I'm seriously in love with this coffee!"
*Jacinda P. (12-26-18)
"We LOVE our coffee...once we discovered Country Roads Coffee Beans, we've been hooked!! The Hazelnut and White Chocolate are favorites, but they are all wonderful."
*Darcy G. (12-5-18)
"First tried this coffee at the Christmas bazaar and now I'm forever hooked! White Chocolate is amazing and now we're trying the White Chocolate/Peppermint mixed. Delicious! Next we're trying the Santa's Surprise. Irish Cream is good, as well as the plain blend. Heck we love it all! Try it! My husband and I both recommend it."
*Connie C. (12-5-18)
"This coffee is wonderful!! So smooth!! Can't wait to try it all!!"
*Sandy G. (12-12-18)
"The flavored beans are our favorite- so good! Can't wait to try more flavors "
*Stephanie V. (12-6-18)